"Hi Sally-Ann – just wanted to thank you again for the amazing facial. All my spots have cleared, and I have a glow! Best"
-Amy S.
ULTIMATE microlift Facial | 90 min. $185
Microdermabrasion/Microcurrent/LED Light/Hydratone Mask/Lymphatic drainage
For the ultimate blend in anti-aging; first your skin is treated to orbital (crystal free) Microdermabrasion, combining LED Light Therapy, creating an innovative treatment that revitalizes the skin and tightens and tones the facial muscles. Microcurrent, a sub-sensory electric current that delivers a pulse to the facial muscles stimulating them & surrounding tissues, to lift, firm and give a more contoured look to jawline, cheekbones, eyes. To complete, a pure hylauronic hydration specialty mask (collagen, rose water and hyaluronic acid) are infused with microcurrent rollers & lymphatic drainage.
Microderm Facial | 60 min. $125
– Microdermabrasion/Hydratone/LED Light Therapy –
Microdermabrasion to gently abrade the skin with fine aluminum sterile crystals, increasing blood flow & promoting collagen, treating fine lines, wrinkles, sun damage, mild cases of acne and acne scarring. Conclude with Hydratone microcurrent to deeply infuse the skin with hydration mask and LED Light therapy to repair and replenish damaged skin cells.
MICROCURRENT Facial | 90 min. $155
Enzyme peel/Microcurrent/Mask/Massage
An abbreviated version of the Ultimate facial above, does not include microdermabrasion or the collagen speciality mask but does include an enzyme to exfoliate the skin prior to treatment and finishes with an appropriate mask and facial massage. It is still a very thorough 'workout for the face' with extra time to focus on your areas of concern. Keep in mind results can be achieved with one session, however it is all in the series to educate muscle memory for lasting results, recommended 10-20 treatments initially 1-2 x weekly,, maintenance is a booster once a month thereafter,
Series of 5 $725 (less 5% discount) $688.75

Series of 10 $1,450 (less 10% discount) $1,305

Series of 20 $2,900 (less 20% discount) $2,320
MICROCURRENT FACIAL | 60 MIN. $125
– Microcurrent only –
This will address all the muscles of the entire face with the microcurrent protocol, as above, but does not include any enzymes//LED or microdermabrasion.
Series of 5 $575 (less 5% discount) $546.25

Series of 10 $1,150 (less 10% discount) $1,035

Series of 20 $2,300 (less 20% discount) $1,840
a La Carte | facial add on treatments
ETR (enhanced tissue repair) for acne scarring– Microlift Eye Revitalization– Jowl Lift - LED
HYDRATING ROSE FACIAL | 75 min. $105
Hydrates and Protects
Every skin type needs hydration to look and feel amazing and this treatment is perfect when you want that extra boost. Enriching Rose extracts and rose hip oil help skin restore vital hydration and balance. A warmed rose quartz massage helps to increase circulation. Products used are rich in essential fatty acids and natural humectants. This facial infuses skin with moisture, keeping it smooth and glowy.
'edens garden' Signature | 90 min. $110
– All Skin Types –
This signature treatment encompassing all the deliciousness of JURLIQUE'S concentrated botanicals is designed with only you in mind. Cleansing, exfoliation, a grounding massage and masks are all personalized to guarantee you gorgeous radiant skin. Warm mitts and booties are included following hand and foot massage. This heavenly facial will leave your skin with a healthy glow and revitalized complexion. Excellent for all skin types.
Custom Facial | 60 min. $105
All Skin Types
A great GO TO facial if you don't know where to start, we cover all the bases, steaming, enzyme, extraction if needed, mask and massage.
Always customized to your skin type, & without compromising my integrity to offer high quality ingredients; this facial cannot claim to be pure organic but utilizes plant extracts, potent antioxidants and fruit acids to deliver a very thorough and corrective facial, targeting concerns of aging, clogged pores, rosacea, fine lines, age spots and melasma.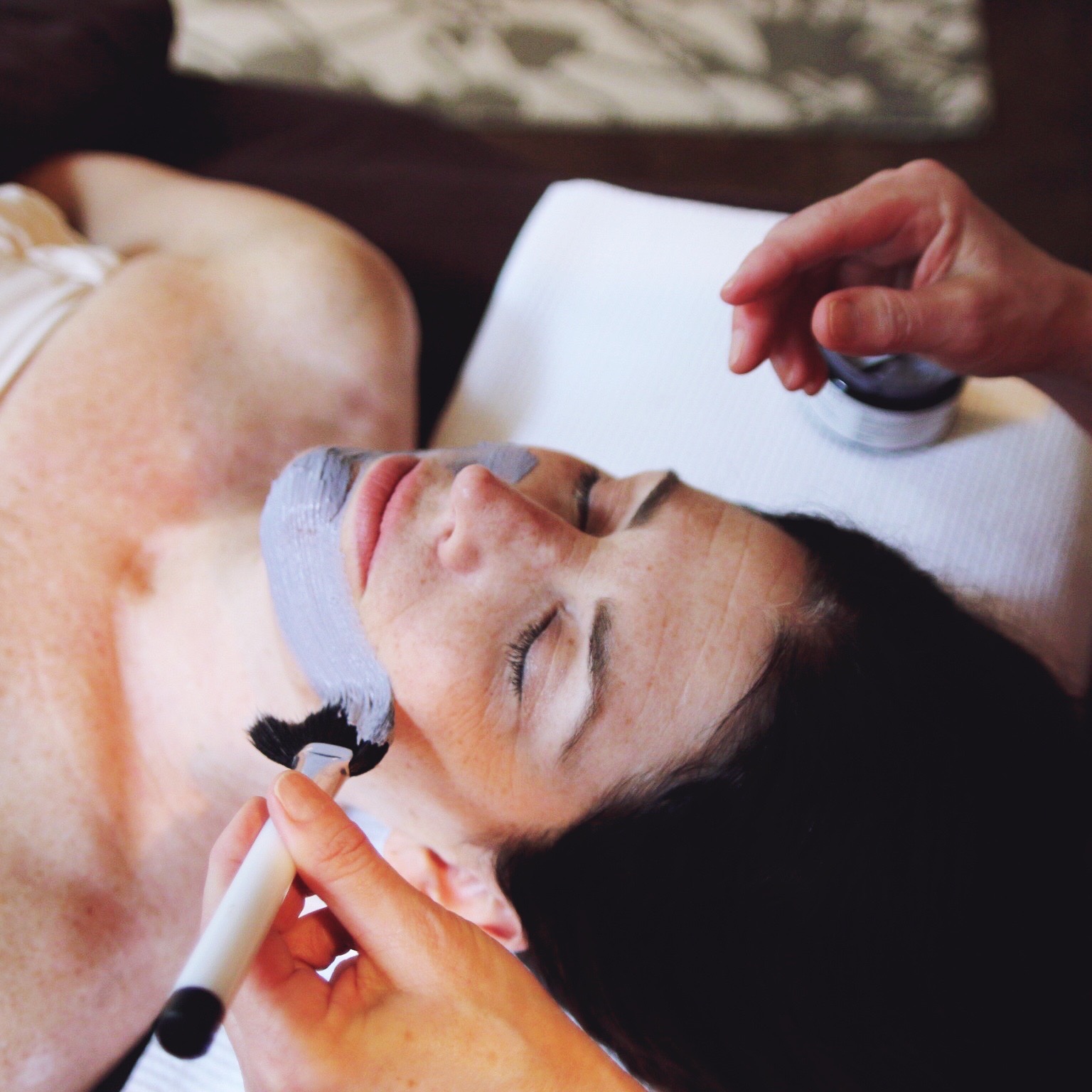 express facial | 45 min. $65
A condensed version of the custom where you decide what you would like the focus to be, relaxation or results.
Light Therapy Session | 30 min. $50
All Skin Types
Cleanse, followed by 30 minutes of Anti-aging RED or acne bacteria killing BLUE light. Can be booked as a stand alone treatment or may be an ADD-On to your facial, Microcurrent or enzyme peel.
A series of 8 sessions is recommended for optimum long term results, ideally twice weekly for a month. Especially effective when combating acne.
SERIES OF 8 $360
Back facial | 60 min. $90
If you struggle with back acne this treatment is for you. A thorough exfoliation to remove dead keratinized skin cells, extractions if necessary, completed with an anti-inflammatory mask.
3-LAYER VITAMIN C ANTIOXIDANT FACIAL | 75 min. $125
JURLIQUE'S REVITALIZING ANTIOXIDANT (nourishes deprived skins)
Layer upon layer of plant-based antioxidants are utilized to revive dull, fatigued skin. Jurlique;s resurfacing enzyme peel combined with a vitamin C exfoliant gently sloughs away dead skin cells, followed with Radiant copper solution and vitamin C mask leaving the skin refreshed and beautifully luminous.
teen facial | 30 min. $50
Spend this 30 minutes with me to receive a skin analysis, exfoliation and mask and as much education as you need to move forward with, and maintain, a healthy focus on skincare. No extractions.
*$75 for 60 min. with extractions
Gentleman's "Tune-Up" Facial | 60 min. $95
Especially designed for men, this treatment will allow you to decompress with upper body, facial and scalp massage. Appropriate cleansing, extraction and eyebrow grooming includes warm steam and aromatherapy hot towels. After a deep yet gentle exfoliation, a customized masque is massaged into the face, neck and shoulders, leaves skin clean, hydrated and refreshed. Hand/arm massage included with natural, perfume free products. For best results advisable to shave the night before your service.
SKIN SCRIPT Enzyme Peels | 30 min. $55 | SERIES OF 6 $297
Skin Script is a clinical line that addresses all skin types and conditions, though not organic, it uses natural fruit enzymes and peels with natural lighteners and preservatives which will treat and correct many skin concerns and conditions. All the enzymes may be combined with 20% Lactic Acid for added lightening & hydration benefits, or 30% Glycolic Acid for acne control. Peels can be performed weekly for optimum results.
*$5 extra for Lactic & Glycolic boosters
– Click Below to Learn More About our Different Enzymes –